6
12
2007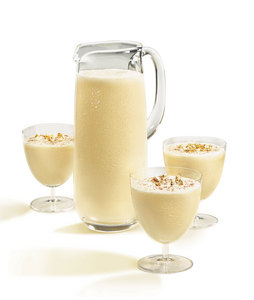 I have a real fondness for EggNog and I've gotta say that it's almost my very favorite thing about Christmas (ok, there's probably other more favorite things, but eggnog is pretty awesome). This year, I decided to take the plunge and make some myself instead of being at the mercy of the overpriced grocery store stuff; it was pretty great.
Here's the recipe that I used from allrecipes with my modifications to cook the egg yolks…
Egg Nog
* 4 egg yolks
* 1 (5 ounce) can sweetened condensed milk
* 1 tablespoon white sugar
* 1 teaspoon vanilla extract
* 4 1/2 cups milk
* 4 egg whites
* 1/4 teaspoon nutmeg
* 1/4 teaspoon cinnamon
Directions:
Wisk the yolks and the condensed milk over a very low heat stirring constantly till it reaches 140-160 degrees; remove from heat and stir occasionally till cooled. Gradually stir in sugar, vanilla and milk. Beat the egg whites until stiff, then add them to the milk mixture. Garnish with nutmeg & cinnamon.