30
11
2008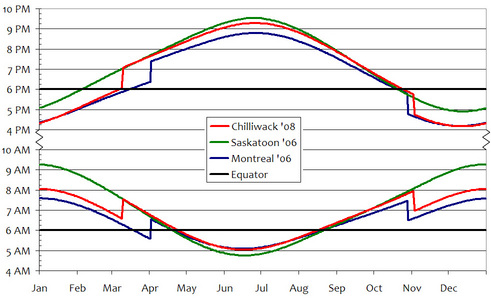 I wanted to update my best graph ever to include sunrise/sunset times for Chilliwack to check to see if the sun goes down especially early here (it doesn't). I was also able to clearly see the newly minted DST times:
From wikipedia:
US and Canada observe DST from the second Sunday in March to the first Sunday in November, almost two-thirds of the year. The 2007 U.S. change was part of the Energy Policy Act of 2005; previously, from 1987 through 2006, the start and end dates were the first Sunday in April and the last Sunday in October.
You can see that clearly has increased the amount of DST. I vastly prefer DST to not because I'd much rather have an hour of extra daylight in the evening and trade off the upcoming sun at 7am.
I guess that would have the adverse effect of 'High Noon' actually being 'High One' – I can deal with that.
Latitudes:
Montreal 45°30′N = 45.5°N
Chilliwack 49°09′N = 49.16°N
Saskatoon 52°07′N = 52.12°N
Comments :
Comments Off
Categories :
Uncategorized