10
10
2009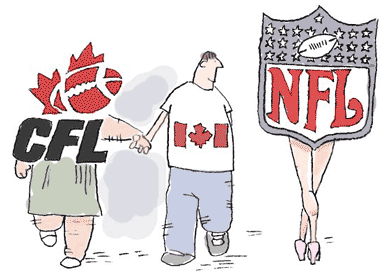 I've certainly had this conversation (or thought) a few times; what would happen if a CFL team would play an NFL team? How bad would the CFL team get beaten?
Turns out that this was something that people have been asking for awhile and there were actually some games in the 50′s and early 60′s that did exactly this. Of the 7 games I was able to find out about, only one time did a CFL team beat their NFL opponent; that would be the Hamilton TiCats beating the Buffalo Bills on August 8th, 1961 (38-21).
There were some interesting factoids about the game and era, here's a few from the links above:

The NFL had more money and better talent, but there was not a staggering difference. The NFL had to bid against the CFL for players. College stars usually went to play in the NFL, but a fair number chose Canada.

A mixed set of rules was used. Half of each game was played under Canadian rules and half under NFL rules. When the Canadian team had the ball in both halves, the teams lined up a yard apart as in CFL play. In both halves, when the NFL team had the ball, the teams lined up head-to-head.

When the NFL team had the ball, the American-sized football was used. When the CFL team had the ball, the Canadian-sized ball was used.

The Buffalo Bills finished 6-8 in 1961, last place in the AFL East. Hamilton went 10-4-0 to finish first in the East and out-dueled Toronto in the playoffs to advance to the Grey Cup.

It would mark the last time the CFL and NFL/AFL met for game action.
Here is the history of the CFL and the current differences in game rules from the NFL.
This year, Hamilton is finally putting things together after having way to many miserable seasons in a row. They're currently 6-7 in a weak division and looking very good to get a playoff spot.