5
11
2009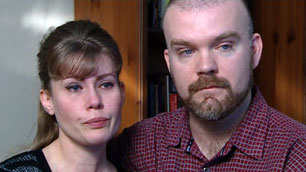 I got forwarded an email from a friend who never forwards 'cause' emails but this one was worthwhile and legitimate. It tells the story of some local BC people who have lost their 3 children to the BC government for over two years and running. The parents took their 2 month daughter into the hospital when she wouldn't nurse correctly after having her bigger brother fall on her; the doctor reported it as a possible shaken baby case so the MCFD (Ministry of Children and Family Development) quickly took the baby girl away and subsequently took the 2 older boys away as well.
The parents have lost their home to legal costs and are working night shifts to cover bills and to give themselves time to see their children during the day. They also underwent investigation by the RCMP and were cleared of all charges, but the MCFD would not return the children. On top of that, they found that their daughter may have glutaric aciduria, a rare disease often mistaken for child abuse. They want to get her medical help but are unable to do so. It's a tragic story that is every good parent's worst fear – being unjustly accused of abusing your children and having them removed. As a parent of small children myself, I can't imagine the panic and anger that I'd be feeling.
For those 'cause' related folks who strive for justice, here is a petition that you can sign to have the MCFD return the children from foster care to their loving parents. Below there's more information to read up on this some more yourself.
the Petition
Blog of their story maintained by a friend
Some stories of the family on CBC here and here as well as an opinion piece.
I long for some good news on this case and peace for the parents who've lost 2+ good years of their children's lives that they can't have back.
Comments :
Comments Off
Categories :
Uncategorized