17
09
2011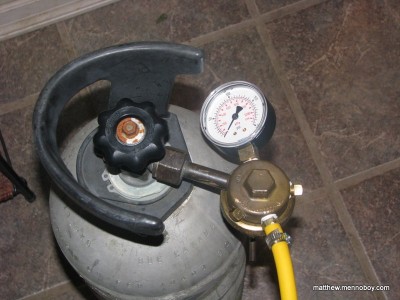 I got inspiration to make my own carbonation system from lifehacker (twice!) and lots of great ideas from other people who have done a similar thing so I decided to try to make one myself.
I was researching parts online and in town and figured it was going to cost a couple of hundred dollars to get a tank and regulator plus all the other little parts that I'd need, which was a little bit much for me. Very fortunately, in the middle of my researching, I happened cross a garage sale where a guy was selling two of his tanks, with a regulator for a steal of a deal – I was in!
I spent some time at Al's Supply House where the helpful staff assisted me in getting the weird things that I needed as well as at Lordco for my tire valve stem in the bottle top. I really wanted to find the carbonator cap locally but haven't been able to yet so I may get lucky when I go to California next at Carbonic Services. I was considering getting a new regulator as mine was a bit sketchy bit have since come around to trust my present one with the new Wika pressure gauge I got from my neighbor.
At this point, I was able to make delicious bubbly seltzer water for basically no cost at all – awesome!! Next step is making pop, so we went off to HY Louie to grab a bunch of syrups which have made us some delicious soda (Started with Root Beer, Vanilla, Red Ruby Grapefruit and Toasted Marshmallow (that one is more for hot milk)). I've also tried carbonating chocolate milk (ala Yoo Hoo) which was not so great and making a New York Egg Cream which was not all that great either. We still have high hopes for carbonated fruit juices which we haven't done yet.
I also had to find a place to refill my tanks when the eventually get empty and found a couple of options in Al's, Weldco or Airgas.
Here are some pictures of my present setup, enjoy!