18
05
2009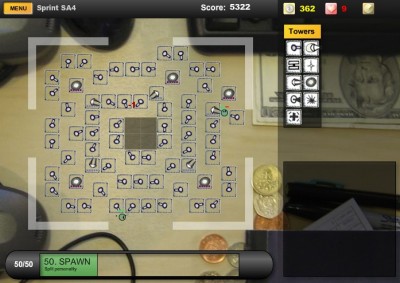 In the new Desktop Tower Defense Pro, I found another little cubby with a bunch of other games where it counts your time that it takes to finish all the levels, called Sprints.
They change the roles of the towers that you make which was a bit of an adjustment for me – no longer were my squirt towers charged to the max always the best way to go. I had to fool around with the Ink's and Bashes and all the other ones.
The first two levels were the basic game but just clocked for time (one which allowed selling [NA2], the other did not [NA2-NS]) – they weren't too difficult. There was another one in there where it was more of a diagonal entrance and exit [NAC] which was new and interesting but didn't turn out to be too difficult.
The next was a level where Spawns came from all four corners and ended in the middle – this one took a lot of thinking because it's unlike anything I've done before. I ended up with a maze of my own making that looks like the top picture on this post. It turned out to work quite well – a little bit of tweaking and I could probably make it a bit better but it held up quite well for me for both the regular version [SA4] and the no selling version [SA4-NS].
The last level was the Hard version [H2] of the basic level (tougher to kill creeps) and after a few tries, I'm pretty sure that it's impossible/very difficult to pass without juggling. I ended up using my juggling maze (minus all the air support in the middle) and was able to pass the level without too much trouble.
So I now have times for all the sprint modes: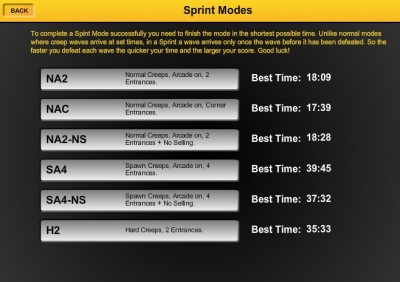 And I made a little effort to get decent scores on all my Scenarios to end up with 55773.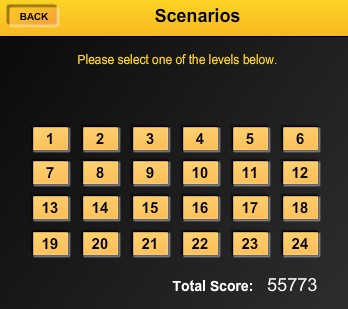 Comments :
Comments Off
Categories :
dtd